La llegada del Mac mini supuso para Apple una ofensiva total al mercado de PCs, buscando a los indecisos que aún no se atrevían a probar las bondades de los Mac. Hay quien dice que Steve Jobs en aquel momento no era muy partidario de un modelo así, pero era necesario un dispositivo que atrajera miradas desde otros ángulos - sobre todo de cara a la transición a Intel desde PowerPC que iba a anunciarse ese mismo año.
El Mac mini rápidamente se convirtió en uno de los modelos más apetecibles por precio para quienes merodeaban por el perímetro del mundo Apple. Aquellos que no se atrevían a dar el paso eran rápidamente cautivados por la llegada de Intel y la posibilidad de la instalación de Windows - pero también porque no tenían que comprometer nada de lo que tenían en casa: su monitor, teclado y ratón servían.
La pregunta recurrente que personalmente me hacían con el lanzamiento del Mac mini original en 2005 era siempre la misma: "¿Que puede hacer un Mac 'normal' que no haga un Mac mini?". Porque aquel pequeño dispositivo no parecía un Mac normal: era algo pequeño, que muchos comenzaron a asociar con "reducido en características". Su regreso triunfal en 2018 y la llegada sobre todo de Apple Silicon a final de 2020 le dio no sólo una nueva vida, también una nueva perspectiva.
Con la llegada de los M2 a esta gama, creo que la pregunta hoy en día sería: "¿Hay algo que no pueda hacer el Mac mini?".
Mac mini M2 Pro, especificaciones y características
El modelo de análisis de este modelo es el que incluye el nuevo M2 Pro, con el que Apple quiere decirnos que lo único que va a tener "mini" este Mac es el apellido.
| | mac mini m2 pro (modelo analizado) |
| --- | --- |
| procesador | M2 Pro de Apple con CPU de 12 núcleos, GPU de 19 núcleos y Neural Engine de 16 núcleos |
| memoria ram | 16 GB de memoria unificada |
| almacenamiento | 1 TB de almacenamiento SSD |
| puertos | Cuatro puertos Thunderbolt 4, un puerto HDMI, dos puertos USB‑A y toma para auriculares |
| precio del modelo analizado | 2.144,00 € |
Como ya hemos comentado en el análisis del MacBook Pro M2 Max, la idea de Apple con esta nueva generación de sus Apple Silicon viene por potenciar la escalabilidad de los núcleos de sus procesadores - más que aumentar de forma drástica el rendimiento mononúcleo. En el caso del M2 Pro, tenemos 12 núcleos de CPU (iguales a los del M2 Max) los cuales en teoría son 1.9 veces más rápidos que los M1.
En este caso contamos con una configuración gráfica que va desde los 16 a los 19 núcleos de GPU, cada uno de ellos con un rendimiento de hasta 2.6 veces superior a los M1. Es una cifra realmente grande para un procesador de este tipo y permite llegar a cotas que la generación anterior no ha conseguido. Además puede configurarse con 32 GB de memoria unificada, con el doble (200 GB/s) de ancho de banda de un M2 normal. Esto es clave para mejorar el rendimiento en una arquitectura unificada como Apple Silicon.
A nivel de codificación, cuenta con aceleradores que permiten codificar y decodificar videos 8K H.264 y HEV, soportando la reproducción simultánea de varios medios 4K y 8K en ProRes.
(Video) MAC MINI M1 16 GB 🍎 ¿Uso PROFESIONAL en 2023? ¡¡MI PRIMER MAC!! WINDOWS ➡️ APPLE
Estéticamente, apenas hay cambios: el Mac mini mantiene el factor forma y color (únicamente en plata, se echa de menos un Mac mini en color gris espacial). El modelo con M2 Pro llega hasta cuatro puertos Thunderbolt 4 en la parte trasera, que permite conectar monitores con resolución hasta 6K. También cuenta con dos USB-A con velocidades de 5Gbps y una nueva versión de HDMI que en este modelo soporta resoluciones hasta 8K60 o 4K240.
La conectividad también ha mejorado con la inclusión de la norma WiFi 6E para conseguir velocidades inalámbricas de hasta 2,4 Gbps si usáis un router compatible. Ambos modelos, el M2 y el M2 Pro traer conexión ethernet de 10Gb por si preferís trabajar con el Mac conectado a la red físicamente.
El conocido diseño sigue funcionando encima de la mesa, aunque ya comenzamos a preguntarnos cuando Apple reducirá el tamaño, algo que la tecnología de miniaturización conseguida con Apple Silicon lo hace perfectamente viable. Con el Mac Studio lanzado hace unos meses, que hereda mucho de este Mac mini en cuanto a dimensiones, no parece algo que la marca se plantee a corto plazo (y que quizás aún no le haga falta).
Las pruebas sintéticas con el M2 Pro
Antes de comentar la batería de pruebas para ver hasta donde puede llegar este nuevo chip M2 Pro en el Mac mini me gustaría destacar el nivel de ruido mínimo que presenta este Mac mini y su baja temperatura incluso después de varias horas trabajando con él:
Pruebas con un sonómetro en la parte trasera del nuevo Mac mini M2 Pro
Como veis en la imagen superior, el sonido después de varias pruebas de rendimiento apenas supera los 42 dBA, que son unos +4/5 dBA por encima del sonido ambiente de la habitación donde he hecho las pruebas, en absoluto silencio. He notado que el M2 Pro activa los ventiladores más rápidamente que los procesadores de la generación anterior, pero siempre durante un tiempo muy justo y que apenas llega a subir +10 dBA por encima del sonido ambiente. Es extremadamente silencioso.
En cuanto a calor, aunque en un ordenador de escritorio no es tan importante como en un portátil - donde podemos trabajar con el dispositivo encima de nosotros - he medido con un termómetro láser la temperatura en la superficie más caliente después de unas pruebas, que apenas llega a los 24º (con una temperatura ambiente de 21º). En pruebas exigentes, como la carga de la demo de Metahumans en Unreal 5.1, se puede disparar unos +10/15º - aunque para un ordenador de sobremesa, en mi opinión, es más importante el hecho de que sea tremendamente silencioso. Vayamos con las pruebas sintéticas, utilizando la última versión de Geekbench:
(Video) TRUCOS para que DURE MÁS la batería de Mac, GUÍA DEFINITIVA 🔋
A nivel de CPU, números en mononúcleo muy parecidos al del resto de productos que incorporan la tecnología M2 (incluido el iPad Pro M2), pero es sin duda cuando entran en juego los núcleos de la GPU utilizando Metal donde se consigue una muy buena cifra de 52.546 puntos - casi 20.000 puntos por encima del M1 Pro de la generación pasada y sólo superado por el M1 Max y obviamente el nuevo MacBook Pro M2 Max.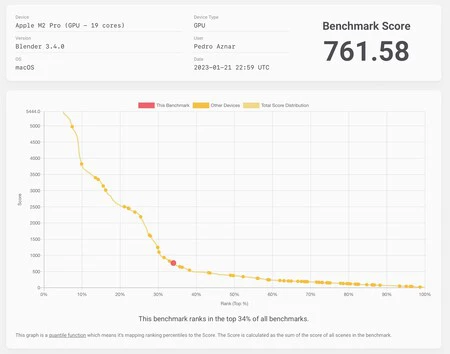 Usando las pruebas de Blender con tres escenas complejas, el Mac mini M2 Pro se sitúa también con una buena puntuación de 761,68 puntos. Para situarlo en contexto, esta puntuación pone la máquina entre el 34% de los que mejor rinden de todos los dispositivos que han hecho esta prueba. Cuando pasamos a Cinebench R23, de nuevo la CPU se posiciona en primera posición, como hemos visto en el análisis del MacBook Pro M2 Max:
Sin embargo, el uso de los 12 núcleos para los cálculos de las escenas de Cinebench nos arrojan un buen cuarto puesto entre otras máquinas del que me gustaría destacar el ratio de multiplicación de eficiencia de los núcleos: un 8.93x, lo cual explica que la buena escalabilidad de estos procesadores es parte sin duda de la estrategia de Apple (al menos hasta que lleguen los 3nm).
Con GFXBench 5.0 Metal buscaremos medir el sistema en condiciones más similares a las normales, como un videojuego que utiliza las características de Metal como acelerador. Con él, se consiguen números muy buenos en las pruebas que utilizan Metal de forma intensiva, con rangos que van desde los 42 frames por segundo hasta los 60 frames por segundo en las pruebas más complejas.
Precisamente para probar cómo maneja el nuevo Metal 3 bajo Ventura - una de las características claves de la última versión del sistema operativo - he instalado Resident Evil Village. El juego funciona de forma nativa en Apple Silicon, y utilizando el Metal 3 Performance HUD veo que se llega hasta una resolución de 3200x1800 con los gráficos configurados en sus máximos parámetros.
Con esta configuración, el juego es perfectamente jugable a una media de 42 frames por segundo, utilizando un mando externo como podría ser el de la PS5 o teclado y ratón. Se nota no sólo el excelente rendimiento gráfico, también la rapidez de carga en cuanto al disco duro SSD integrado:
(Video) Cómo mejorar el rendimiento de tu Mac un 200% 🚀
En el modelo de análisis, vemos como alcanzamos los 4900 MB/s en escritura y los 5000 MB/s en lectura, cifras que pemiten a este Mac mini M2 trabajar con resoluciones de hasta 12K DCI 60, tanto en Blackmagic RAW o ProRes 422 HQ. Si queremos utilizar H.265, el máximo sería de 8K DCI 60.
Si probamos el sistema con el codificador Blackmagic RAW, vemos que la velocidad de codificación vía CPU en 8K sería de 43 frames por segundo. Si pasamos a utilizar Metal en 8K, la cifra sube hasta los 166 frames por segundo.
Pasamos a una prueba algo más exigente con Twinmotion, el popular programa de diseño arquitectural, utilizando el test más exigente que incluye la aplicación: Lakehouse retreat, y siempre en su modo de calidad alta. Mientras que con el M2 anterior apenas era navegable, en este sistema se llegan hasta los 34 frames por segundo.
Si pasamos a una escena también compleja pero con menos transformaciones gráficas, Materials Room, alcanzamos los 65/75 frames por segundo - siempre en calidad alta y sin que se dispare ni la temperatura ni el sistema de ventilación activo.
En el caso de Final Cut Pro, utilizando el test BruceX que mide el tiempo de exportación de un proyecto corto pero complejo, obtenemos los siguientes datos en cada una de las tres pasadas necesarias para calcular la media aritmética:
Pasada 1: 10,05
Pasada 2: 9,80
Pasada 3: 10,87
Lo cual nos da un tiempo realmente corto para este tipo de prueba, que mejora sustancialmente el que hemos obtenido en otras ocasiones: 10,24 segundos, y sin ralentizar ni consumir completamente los recursos del sistema. Es en pruebas como esta donde se demuestra que la tecnología Apple Silicon es extremadamente eficiente gracias a la gestión energética sin comprometer la potencia.
Para quienes os preguntáis como funcionará este Mac mini en el campo de desarrollo, probamos el test XcodeBenchmark, un proyecto gigantesco de Xcode con más de 70 dependencias y 40 librerías cruzadas - en el cual mediremos el tiempo de compilación:
En el caso de este Mac mini M2 Pro, el tiempo es de poco más de 75 segundos, un número muy similar al que hemos visto en el análisis del MacBook Pro M2 Max - lo cual nos apunta que si no necesitamos potencia gráfica, un M2 o un M2 Pro es más que suficiente para nuestros propósitos.
Otro de los factores que también me ha interesado comprobar en esta nueva generación de Mac mini es el consumo energético, tanto cuando está en reposo, como en plenas pruebas de rendimiento. La gráfica en dos días, es la siguiente:
Este ha sido el consumo energético del Mac mini M2 Pro, en los últimos dos días de pruebas
(Video) Chip para Mac 🍎 M1 vs M2 - DIY in 5 #177
El ordenador en reposo consume alrededor de 0,8 Wh y dependiendo de la carga o la potencia necesaria, este consumo subirá. De media tenemos unos 5 Wh, con picos de 23 Wh por ejemplo cuando utilizamos los 19 núcleos gráficos para juegos de alta demanda como Resident Evil Village. En el resto de pruebas, los núcleos de eficiencia ayudan a contener el gasto energético, algo que es de agradecer hoy en día.
Un Mac mini que no se conforma
Este nuevo Mac mini con procesador M2 Pro permite llegar a tareas tradicionalmente reservadas a otros integrantes de la familia Mac. Por ejemplo, hace unos años - antes de Apple Silicon - era impensable encontrar que un Mac mini pudiera llegar a este nivel gráfico, que permite trabajar con video de altísima definición, pero también satisfacer a las aplicaciones con alta demanda gráfica con hasta 19 núcleos de GPU.
No os dejéis llevar por la potencia en gráficos, como comentaba antes, un Mac mini M2 es perfectamente viable para tareas como desarrollo, ofimática o aplicaciones cotidianas - pasando el M2 Pro sólo si necesitemos algo más de potencia gráfica puntualmente. Quizás le subiría la RAM al modelo básico (el disco duro siempre se puede "ampliar" aunque sea de forma externa), aunque el Apple Silicon y su arquitectura unificada, no sea tan importante.
Apple 2023 Mac Mini computadora de Escritorio con Chip M2 CPU de Ochonúcleos yGPU deDiez núcleos: 8GB de Memoria unificada, 256GB de Almacenamiento SSD, Gigabit Ethernet
Pequeño, pero no lo subestiméis: el nuevo Mac mini se aleja del punto del que partió y la experiencia de todos estos años - junto al aumento en potencia ganado con Apple Silicon, lo hace uno de los Macs más interesantes para casi cualquiera... sin renunciar a casi nada.
(Video) 12 Trucos para MacOS que NECESITAS!
FAQs
For comparison, Apple said the the M2 has seen an 18% CPU performance increase compared to the M1, while the GPU has seen a 35% graphics performance boost.
Is the Mac Mini the best value? ›
The Mac mini is a great choice because it's the cheapest Mac you can get – and even cheaper since Apple introduced the M2 Mac mini in January 2023 and cut the price at the same time.
Is Mac Mini powerful enough for gaming? ›
Apple has done a great job equipping the Mac Mini with features that allow the Mac to function like a Windows PC. In conclusion, the Mac Mini is perfect for Mac games and can also be made to accommodate Windows games. It is, therefore, safe to say that the Mac Mini is good for gaming.
What are the disadvantages of a Mac Mini? ›
Is M1 Max better than i9? ›
This means the Core i9 processor is around 4% faster than the M1 Max chip in this particular comparison. One of the biggest caveats is power efficiency.
Is M2 better than M1 Pro Max? ›
Graphics speeds climb up to 30 percent faster than M1 Max. Along with 96GB of memory, the new MacBook Pro with M2 Max can tackle graphics-intensive projects that competing systems can't even run.
How many years can a Mac mini last? ›
So, in answer to the question: How long do Macs last? We'd say five to eight years, but beware that you probably won't be able to replace any faulty parts in a Mac when more than five years has passed since Apple last sold it. Before you buy a new Mac, read our article about the best time to buy a Mac or MacBook.
What is the lifespan of a Mac mini? ›
A Mac Mini is usually more of an entry level Mac, but can be configured with faster processors, expanded memory and larger hard drives that will extend the life span. This makes their effective life span 3 to 5 years.
Why is the Mac mini so slow? ›
Your Mac might be slow because of an outdated operating system or a full hard disk — especially if you have an older model Mac. If your Mac is new, it might be slow because you're running too many background programs and apps or even have a malware infection.
Can a Mac mini run GTA 5? ›
Is it possible to play GTA 5 on MacBook or iMac? The answer is yes. If you have Windows 7 or 8 or 10, you can run GTA 5 with the help of Boot Camp.
Performance and Speed

At their core, both the M1 Mac Mini and the M1 iMac have the same computing power. Both run on Apple's M1 processor, which handily outperforms most laptops running on midrange Intel or AMD processors.
How much RAM should a Mac mini have? ›
We recommended 16 GB as the minimum for Intel-based Macs, but 8 GB seems to be an acceptable base level for M1-based Macs.
Is it OK to leave Mac mini on all the time? ›
You are quite correct that you can put your device to sleep for long periods of time or even leave your device up and operating without causing any damage to the device, so long as proper precaution is taken to ensure surge protection for your electronics.
Is it OK to keep Mac mini on all the time? ›
No, that's not bad in any conventional manner. I run Mac Minis for months and years without powering them off (except the occasional reset for security updates). And for what it's worth: I've been using my Mac mini daily since 2009, multiple times a day, but not for long.
Which Mini Mac is best? ›
As we've seen above, buying a Mac mini today is really a choice between two models that both came out in 2020. There's the Mac mini with Apple's own M1 chip and the previous Intel-powered version. For most people, the M1 Mac mini will probably be the best deal since it offers great performance at quite a good price.
Should I get the M1 Pro or M1 Max? ›
In our testing, the ‌M1 Max‌ unsurprisingly outperformed the lower-end ‌M1 Pro‌ chip, but what was a bit of a surprise was how well even the base ‌M1 Pro‌ chip did in our tests. 14" M1 Pro vs 16" M1 Max MacBook Pro Performance Benchmarks!
Is there a big difference between M1 Pro and M1 Max? ›
The M1 Max is also a 10-core chip, but it packs a bigger punch than the M1 Pro, scoring slightly higher in benchmarks. Apple likes to flaunt its new CPU's muscle mass in transistor count, and the M1 Max packs 57 billion of them, compared to the M1 Pro's 33.7 billion.
Is M1 Max faster than i7? ›
For example, the Core i7-12700H could be nearly 50% faster than Apple's M1 Max chip, and it also outperformed AMD's Ryzen 7 5700H processor.
Is the M2 Pro worth it? ›
Verdict. If you're after an ultra-portable, yet high-performing laptop that can take on pretty much any image or video editing task you could throw at it, the M2 MacBook Pro is well worth considering.
Is it worth buying MacBook Pro M2? ›
Given that it has only been 18 months since Apple launched the ‌M1‌ MacBook Pro and the ‌M1‌ chip continues to be offered in the iPad Air, iPad Pro, Mac mini, and iMac, the ‌M2‌ MacBook Pro will likely not be worth it coming directly from the previous model and future-proofing is unlikely to be an important factor at ...
As a result, graphics are up to 30 percent faster than with ‌M1 Pro‌. The ‌M2‌ Max chip features the same 12-core CPU as the ‌M2‌ Pro, but offers a more powerful GPU with up to 38 cores and a larger L2 cache. The chip offers graphics speeds up to 30 percent faster than the M1 Max.
How often should I shut down Mac mini? ›
A good rule of thumb is that if you're only going to be away from your Mac for an hour or two or even overnight, letting it sleep is probably the best method. Any longer than that and you'll want to power it down, for reasons outlined in the next section.
What should I do with my old Mac mini? ›
What is Mac mini good for? ›
Benefits of the Mac mini

It's the most affordable Mac that Apple sells. It has built-in in apps such as FaceTime, iBooks, Maps, iTunes and Mail. There are multiple ports, making it more like a PC than a media device.
Can a Mac last 10 years? ›
The OS released in 2029 would receive support from Apple until 2032, and most third-party tools that worked on the final version of the OS would be supported until at least 2035. This means that in general, you can expect at least 10 solid years of life from a Mac, barring any unforeseen hardware issues.
Can a Mac last for 15 years? ›
Apple hardware typically lasts much longer than that from competing manufacturers. Lots of people have Macs that are 10 or even 20 years old that still work. And there are a few that are even older than that.
How much does it cost to run a Mac mini? ›
I found that if you ran the M1 Mac mini at its maximum possible power draw for 24-hours a day for a year, it would cost you around $45/year. However, if you ran the previous 2018 Mac mini with an Intel i7 chip, at the same maximum power draw for 24 hours a day for a year, it would set you back $140.80 each year.
Which Mac mini is the fastest? ›
Benchmarks. In Geekbench benchmarks, the M1 chip in the Mac mini, which has a 3.2GHz frequency, earns single-core scores that exceed 1700, and multi-core scores around 7600, which makes it faster than the Intel version of the Mac mini that Apple still sells.
How can I increase my Internet speed on my Mac mini? ›
Can you increase RAM on Mac mini? ›
Mac mini (2018) does not have user-installable RAM. You can configure the memory in your Mac mini (2018) when you purchase it. To upgrade the memory in your Mac mini (2018), go to an Apple Store or Apple Authorized Service Provider.
In our testing, the M2 has an 18 percent faster CPU than the M1. The new chip doesn't just mean that the new Macs can accomplish more though, they use less power doing so: Apple promises an increased CPU performance of 18 percent with the same energy consumption thanks to various optimizations.
How much faster is M1X than M1? ›
Speculated Geekbench 5 and Cinebench R23 scores for the Apple M1X chip are based on it offering 1.77x the performance of the current M1 silicon.
How much faster will M2 Mac be? ›
When compared to the previous generation, the M2-powered Mac mini offers up to 50 percent faster filter and function performance in Adobe Photoshop. For users upgrading from an Intel-based Mac mini, Mac mini with M2 features up to 9.8x faster complex timeline rendering in Final Cut Pro.
Is M2 faster than i7? ›
The 12-core-based Core i7 outperforms the M2 chipset in terms of performance but falls short in terms of power efficiency. Apple admits that the 12-core Core i7 processor is faster than the M2 chipset.
Is it worth upgrading to M2 from M1? ›
The ‌M2‌ MacBook Pro is better suited to buyers who are upgrading from an older machine, rather than 2020's ‌M1‌ model. Spearheaded by the ‌M2‌ chip, the device's series of minor improvements offer a good overall package for these buyers, ensuring that they get a slightly more modern and capable machine.
Which is faster M1 Pro or Max? ›
In our testing, the ‌M1 Max‌ unsurprisingly outperformed the lower-end ‌M1 Pro‌ chip, but what was a bit of a surprise was how well even the base ‌M1 Pro‌ chip did in our tests. 14" M1 Pro vs 16" M1 Max MacBook Pro Performance Benchmarks!