Fed up with mediocre experience while using WhatsApp Web on your desktop? Looking for something to enhance your WhatsApp Web experience? Look no further, we have compiled a list of the amazing Microsoft Edge and Google Chrome extensions for WhatsApp Web.
Owned by Facebook, WhatsApp is a highly popular instant free messaging app. With this social messaging app, users can send text messages, voice recordings, images, documents, maps, video and make voice/video calls. More than one billion people use WhatsApp every single day. That is an indication of its popularity and its usage globally.
WhatsApp is completely free to use and provides a wide range of effective features. The most recent version of WhatsApp offers multi-device support, disappearing messages, and much more.
WhatsApp on smartphones is quite advanced. However, on the contrary, WhatsApp Web has limited features despite new updates appearing now and then. Fortunately, there are numerous Chrome Extensions that one can use to improve the WhatsApp web experience. With these best browser extensions, you can expand the features of WhatApp's desktop version.
Note: The browser extensions mentioned below work for all Chromium-based web browsers like Microsoft Ege, Brave, Torch, Vivaldi, etc.
Best Chrome Extensions to Improve WhatsApp Web Experience
There are several browser extensions available for an enriching WhatsApp Web experience. Take a look at the handpicked Chrome extensions for WhatsApp web and install one or more from them according to your usage.
1. Cooby: Supercharge WhatsApp for Work
The first one in our list of best Chome extensions for WhatsApp web is Cooby. Do you get numerous messages in WhatsApp and find it difficult to reply to urgent ones? For that, using Cooby is an excellent choice.
Here, you can now group your chats into different tabs on your computer. That way, you can locate the chat thread you want with ease.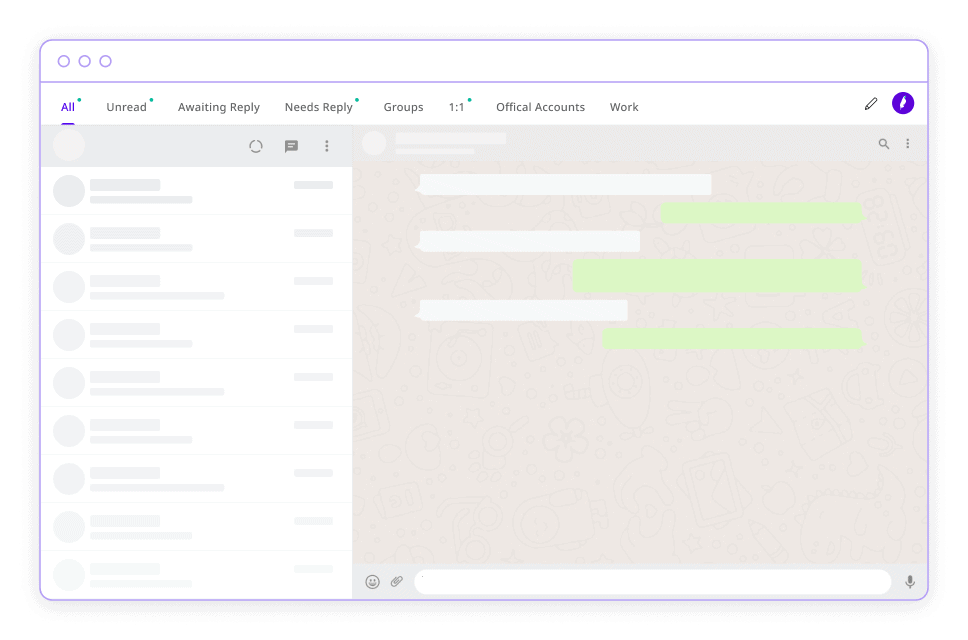 The chrome extension comes with some default system tabs. These include the unread tab, groups tab, awaiting reply tab, 1:1 tab, and needs reply tab. Apart from this, the extension also allows users to create custom tabs.
How will you know that you have unread messages? That's easy! Look out for a green dot on the tabs. That is the signal that notifies users that they have unread messages.
2. Notifier for WhatsApp Web
Is it possible to get WhatsApp notifications without opening WhatsApp Web? With Notifier for WhatsApp Web, that is possible. With the use of the Notifier Chrome extension, you will never miss important notifications. We are sure this would help you to improve the WhatsApp Web experience on the desktop.
(Video) Top 10 Most Useful Chrome Extensions Everybody Should Know!
If you are wondering about the orange icon with an exclamation mark, it means you have connectivity issues. Make sure that the WhatsApp Web is connected to the phone to continue messaging.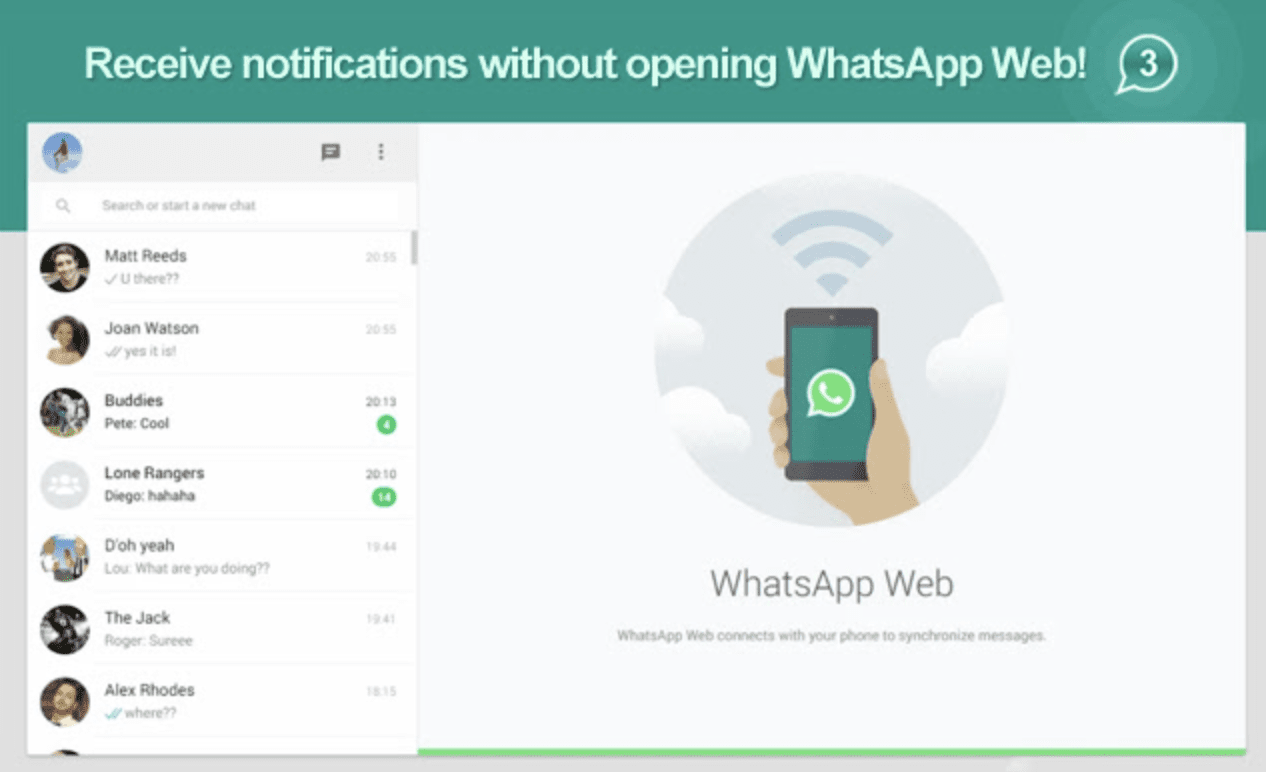 The appearance of a red icon with an X represents that the web session has been opened in a different computer or browser. On the other hand, the gray icon with (…) means that the WhatsApp™ Web is loading.
Install Notifier for WhatsApp Web
3. Green Multi Messenger for WhatsApp
One of the most reliable chrome extensions for WhatsApp Web is Green Multi Messenger. With this, users can access different social media messaging apps such as WhatsApp, Telegram, Line, FB Messenger, and much more using only this extension.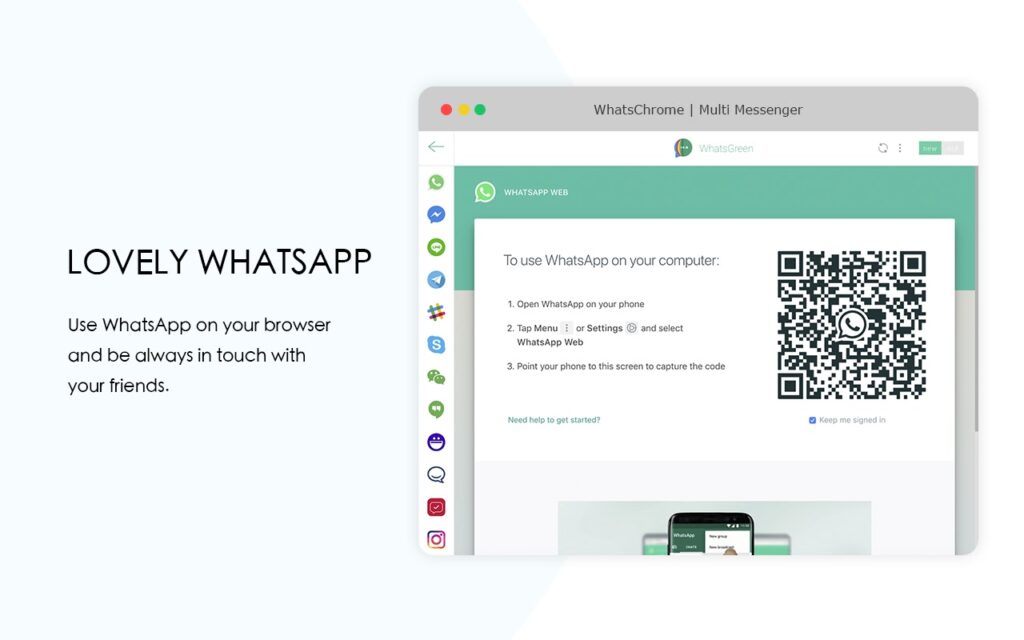 The latest version offers a multitude of features that makes the extension even more appealing.For instance, the pin bar enables users to add valuable messenger services while hiding others for easy access. It is now easy to access WhatsApp Web with many other messaging apps on your desktop without the phone using Green Multi Messenger.
Install Green Multi Messenger for WhatsApp
4. WAToolkit
If you are tired of missing WhatsApp notifications, WAToolkit is the preferred WhatsApp Web extension. Even if you don't have the WhatsApp tab open on the computer, you will not miss the notifications.
WAToolkit adds a WhatsApp button to the toolbar. That way, you can always view the number of unread messages. Hovering over the icon with the mouse will also let you view a summary of the unread messages.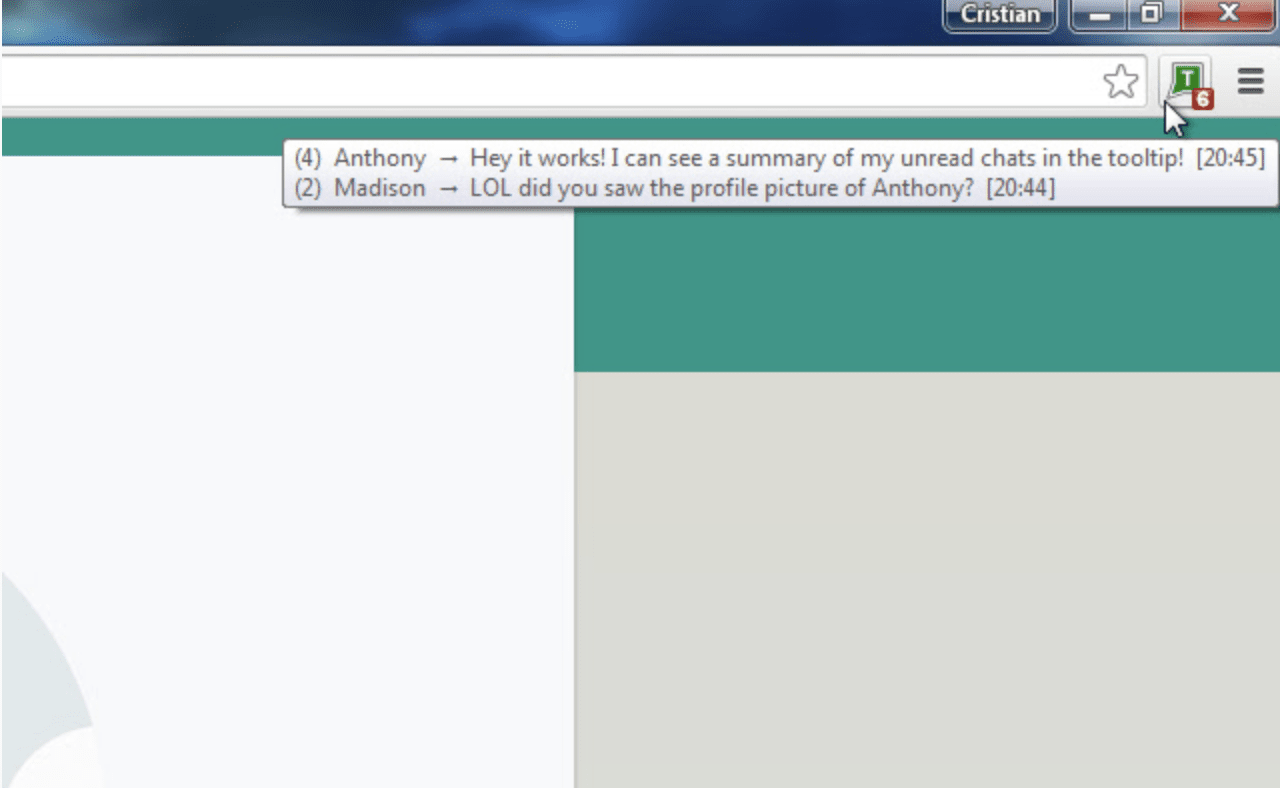 Don't want to see the WhatsApp button? That's easy! All you have to do is to tap on the Hide button. You can enable text bubbles that let you take full advantage of the chat window in both outgoing and incoming messages.
(Video) 10 Chrome Extensions You'll Actually Want to Use!
5. WAIncognito
Do you want to be invisible on WhatsApp? In that case, the chrome extension, WAIncognito can help. With features that allow users to disable read receipts and presence updates, it helps you gain the incognito mode in WhatsApp. Now, you don't have to worry about people constantly messaging or disturbing you on WhatsApp.
This chrome extension adds a new menu that allows users to toggle OFF and ON the read receipts feature and the last seen updates. Moreover, the extension also handles the deleted message and restores them after some time.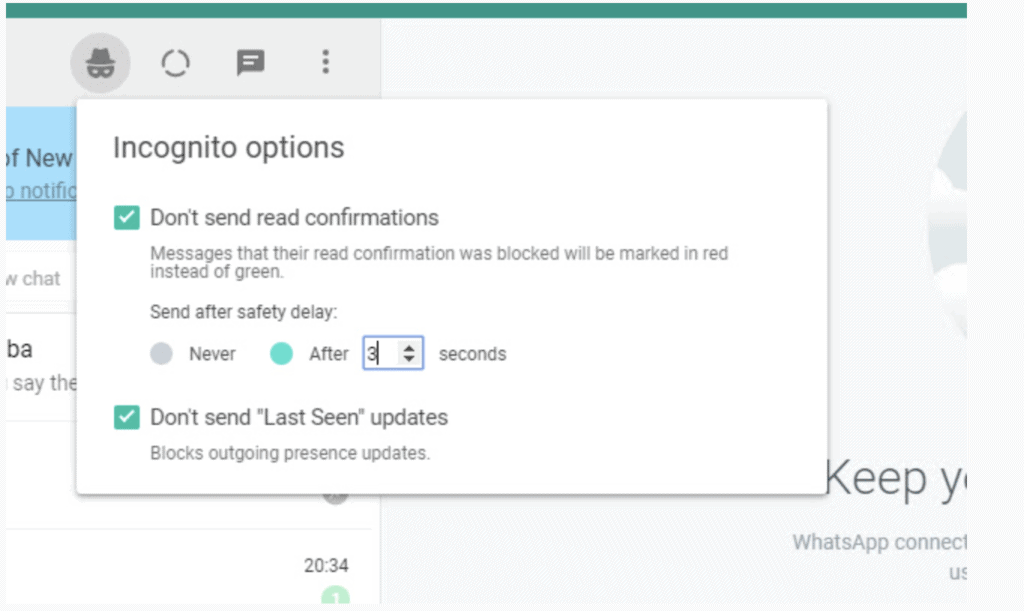 You can also set a timeout. It enables you to send the read receipts automatically after a specific team period has passed from opening the text. If you don't want to send the receipt, you can do it by selecting the Never option.
6. Vepaar – CRM for WhatsApp
If you want to semi-automate your business workflow on WhatsApp, Vepaar is an ideal choice in our list of Chrome extensions for WhatsApp Web. This browser extension offers multiple CRM-based features to help you run your business smoothly. You can build customer profiles, run polls, and create your business page with ease.
Apart from that, Vepaar also aids in saving messages and media while allowing users to send customized replies. It is now easy to connect with your customers on WhatsApp using the Vepaar.
Vepaar assists in the selling of services and products. Besides, with this extension, customers can explore your services or products with ease. After you install the extension, you can schedule a demo to know more about the features.
7. WA Web Plus for WhatsApp™
Another highly popular chrome extension for WhatsApp is the WA Web Plus. It is a widely used extension preferred by thousands of users to improve the WhatsApp Web experience. Different features of this chrome extension contribute to its popularity.
With this extension, users can blur images and messages with ease for privacy. Apart from that, you can view status anonymously while keeping your typing status hidden. Besides, one can pin conversions at the top of the screen and much more.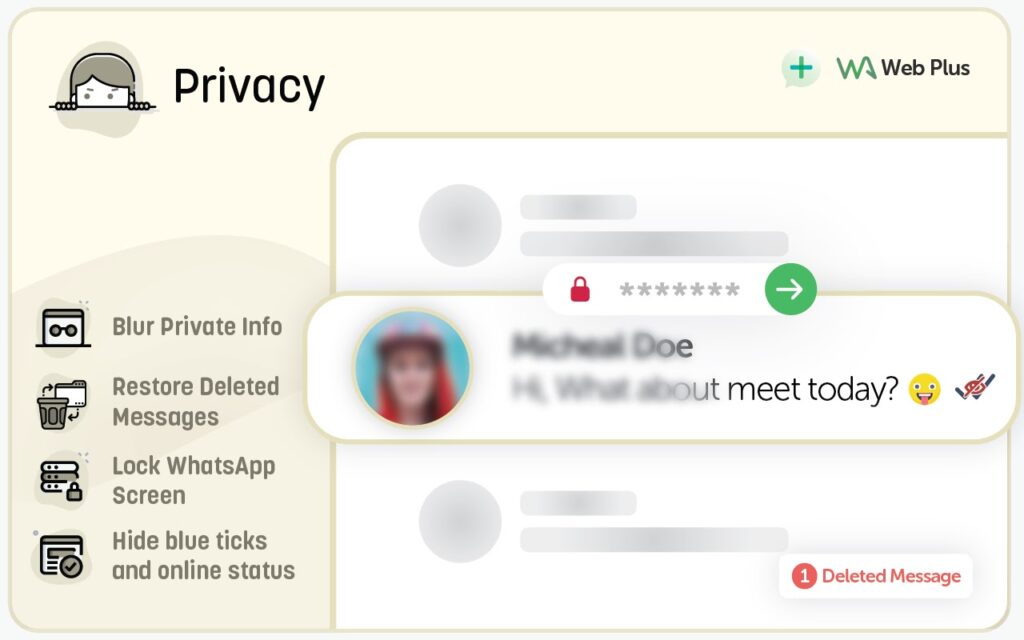 (Video) Turn on this Now * 10 Useful WhatsApp Trick *
Also, the dark mode is an excellent addition. Use it during busy nights and get on with your business. The extension also offers a wide array of business tools such as multiple message broadcasting, auto-replies, CRM integration, etc.
Other notable features are restoring deleted messages, locking WhatsApp screen, custom chat wallpaper, etc.
8. Contact Saver for WhatsApp
The next one on our list of best WhatsApp web extensions is Contact Saver. If you want to deal with the hassle of exporting and saving contacts from WhatsApp chats and groups, choosing the Contact Saver extension is an excellent idea. Here, users can save contacts, unknown numbers, etc., from WhatsApp chats and groups.
Another interesting feature is that you can now update your WhatsApp status directly while using the extension. The export format of the contacts will either be in vCard or CSV.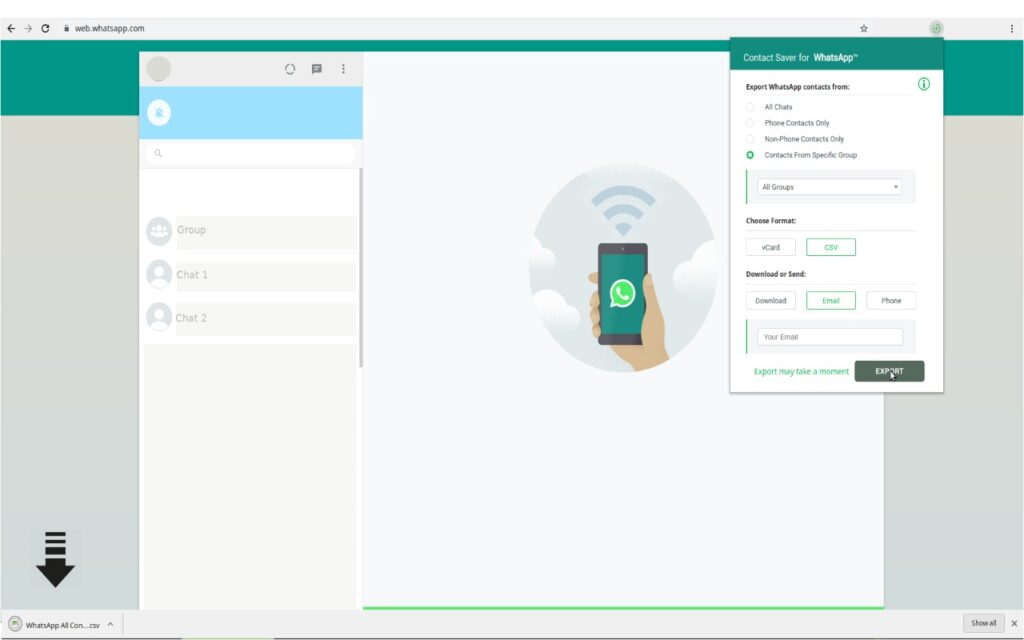 Moreover, you can export the contacts to different options such as computer, phone, and email id. If the name of the contact is unknown, the extension gives a name by adding the letter W just before the phone number.
Install Contact Saver for WhatsApp
9. WhatsApp Translator – Translate Chats
Are you finding it difficult to understand another language in WhatsApp? With WhatsApp Translator, it is now possible to chat with people in other languages you don't understand. Moreover, the extension support 100+ languages. With this translation app, one can continue conversations on WhatsApp with ease.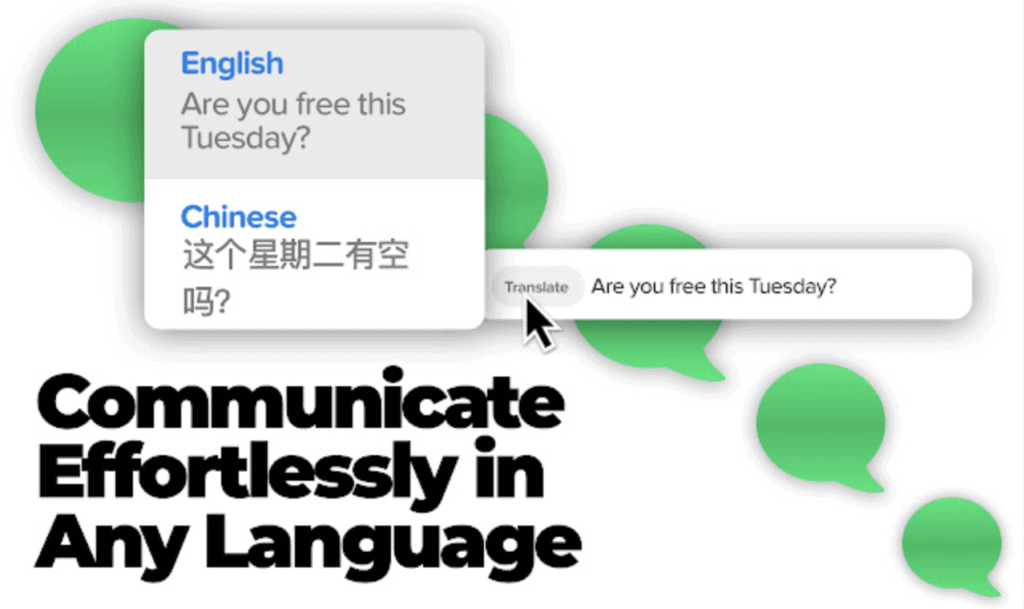 This 100% free translation WhatsApp web extension is easy to use. However, it is available only for WhatsApp Web. The usage of Google Translate API ensures that the translations are as accurate as possible. Use the extension settings to change the language options. Then, all your messages will be translated to the selected language automatically.
To view the translation, all you have to do is hover the message and press translate.
Install WhatsApp Translator
10. Blueticks
For managers, making sure everything is in perfect order is important. In order to help with that, you can try the Blueticks chrome extension. With this WhatsApp Web extension, one can manage tasks, schedule messages for the future, send customized messages, and much more.
(Video) Twinkle Twinkle Little Star & More | Kids Songs | Super Simple Songs
Other useful features of this Chrome extension for WhatsApp Web are one can manage templates, send lists, and create campaigns. Moreover, you can also import contacts from CSV. Scheduling recurring messages is easy too.
Sending customers greetings for their birthdays or anniversaries is a great way to develop bonds and this extension lets you do it swiftly in just a matter of a few clicks.
11. Privacy Extension For WhatsApp Web
As the name suggests, the Privacy Extension for WhatsApp Web focuses on protecting your privacy on WhatsApp. To offer more privacy, especially in public spaces, the extension blurs the messages. Hovering the mouse over them will reveal the content.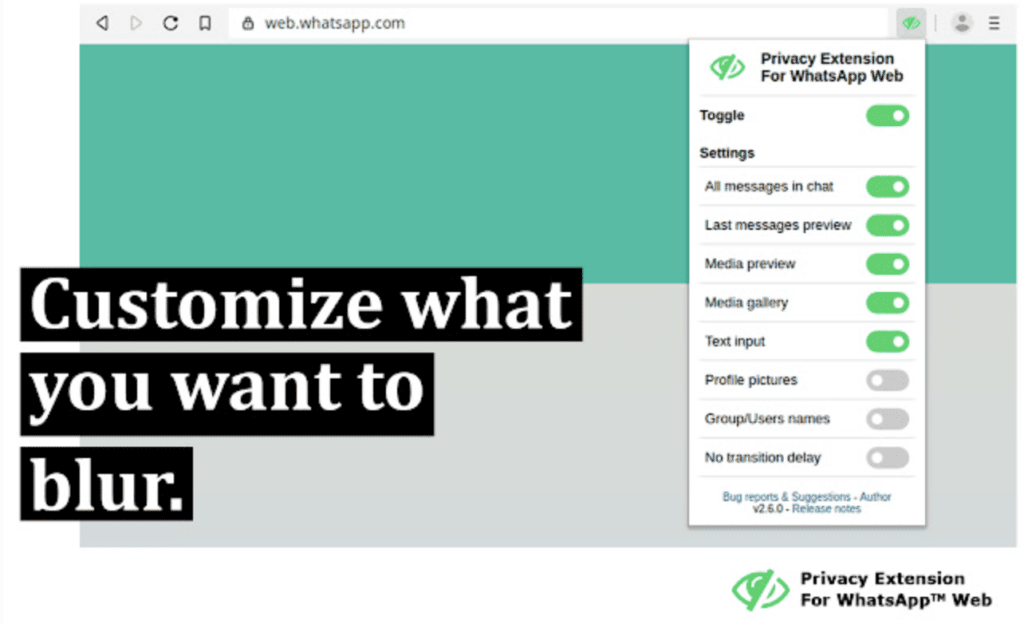 Moreover, you can use various options and decide which elements you prefer to blur for privacy. These include profile pictures, last message preview, all messages in the chat, and media preview.
Another way the chrome extension lends privacy is that it lightens the input field. That means, when you are typing the message, the color is faded. It makes it difficult for others to snoop into reading your messages.
Install Privacy Extension For WhatsApp Web
12. WASender Free Plugin
Want to send multiple personalized messages to customers on WhatsApp? In that case, choosing WASender Free Plugin is a great idea. In the free version, you can pin unread chats to the top of the screen, get unlimited messaging and upload excel sheets. The privacy features are amazing too!
However, you can also upgrade to the pro version to get access to a few more features. These include attachment sending, customized bulk messaging, creation of chatbots, setting time gaps between messages, etc. You can also opt for the one-click instant download for different contact types.
(Video) Ninja Kidz Movie | Season 1 Remastered
Improve your WhatsApp Web Experience With Browser Extensions
These are a few of the best and most useful Chrome extensions for a better WhatsApp Web experience. I have personally tried each of them and they are completely safe to install and use. All of them provide exciting and unique features that make them stand apart from the rest and surely help you to improve the WhatsApp Web experience. With these WhatsApp Web extensions, you can exploit the different features to connect with friends or to grow your business.
Do you use any other Microsoft Edge or Chrome extension for WhatsApp Web that you think should make a way in our list? If yes, do let us know in the comments section below and we will update our article.
FAQs
WATookit is the best rated extension for WhatsApp™ Web! Never ever miss a WhatsApp notification again while you are on your desktop computer. This extension makes it possible to receive WhatsApp notifications even when there is no WhatsApp tab or Chrome window at all open.
WAToolkit. This Chrome extension is a must-have if you use WhatsApp Web on your Desktop Chrome browser. It's free to use and allows you to expand the width of the chat bubbles to full-width so you can optimize and utilize the extent of your monitor.
Steps To Set-up Auto-reply for WhatsApp:

Tap on the three vertical dots on the top right of your WhatsApp application. From there, click on Settings, followed by Business Settings, and lastly on Away message. Now, turn on the "Send away message" toggle button.
You will see a QR code — scan the code inside of WhatsApp, and you're ready to go. You have now paired WhatsApp on your phone with the WhatsApp web client. Your phone needs to stay connected to the internet for our web client to work. This service is currently available to Android, Windows and Blackberry users.
You can quickly toggle the blur in the settings or with a keyboard shortcut (Default: Alt+X).
WhatsApp chatbot is an automated software powered by rules or artificial intelligence (AI) and runs on the WhatsApp platform. People communicate with WhatsApp chatbot via the chat interface, like talking to a real person. It's a set of automated replies that simulates a human conversation on WhatsApp.
You'll see different options for notifications. Scroll down below to find 'other notifications'. Now simply toggle off this feature. The WhatsApp Web notifications will disappear from your phone.
The new feature will allow users to view the sender's profile pictures in the system notifications. It is likely to be implemented for all at a later stage. According to Wabetainfo, the new feature will allow profile pictures to appear in the notifications whenever a user receives messages from chats or groups.
How to Blur Chats, Profile Pictures, Messages on WhatsApp ... - YouTube
Unlike email and internet usage, the employer cannot monitor what is said or shared in WhatsApp workplace groups. WhatsApp accounts are private as they are usually set up on personal mobile phones, and the messages can only be viewed by individuals who are part of a particular WhatsApp group.
Google Chrome usage has increased steadily over the past few years, and it is now the most popular browser in the U.S.
Google Chrome has between 176,608 and 188,620 extensions.

Out of this total, based on Chrome extension statistics, 137,345 are actual extensions, and 39,263 are themes. The results from Extension Monitor are similar, with 188,620 items on the list.
Automate WhatsApp Messages using Python - YouTube
Look for WhatsApp and download the application on the BlueStacks App Player. When you first open the WhatsApp application on your BlueStacks app player you will have to complete the signup. Enter your mobile number and complete the registration to get access to WhatsApp without a QR Code.
Open WhatsApp > tap More options > Settings. Tap the QR icon displayed next to your name.
Go to WhatsApp Web, web.whatsapp.com. You can also install the WhatsApp desktop version. You will see a QR code on the screen along with the instructions about how to use WhatsApp on your computer. Scan the code through your phone by following the steps: WhatsApp settings>Linked Devices> Link a Device.
All you have to do is save picture in HQ or 720 or 480 resolution, or use compression softwares/apps that reduce the size of file/pic without effecting visual quality. And then upload pic to status.
In fact, the photos uploaded to WhatsApp Status are of low quality. This is because of the aggressive compression algorithm that WhatsApp follows to curtail the total size of a video from 'X MB' to almost a max of '200 KB'.
A photo might appear blurry if WhatsApp can no longer find it in your device or SD card. This usually happens if the photo is deleted. To automatically save photos to your device: Android: Open WhatsApp > Tap More options > Settings > Chats > Turn on Show media in gallery.
Is WhatsApp Business API Free? No, WhatsApp Business API isn't Free. Only Procurement of WhatsApp Business API is free if you choose AiSensy as your WhatsApp partner.
The chatbot that provided users with updates on the latest news, sports updates and a bunch of other stuff (I wasn't a big Duta user so I don't know the rest). Unfortunately, in late 2019 Duta met an untimely end after WhatsApp shut down their service.
This feature requires the sender to share their location with you after sending a message. If you are tracking the account through WhatsApp Web or Web Scan, you can use this feature without the person knowing.
How long does WhatsApp Web stay connected? You will be automatically logged out of WhatsApp Web after 30 minutes of inactivity. When you sign into WhatsApp Web, you can check a box under the QR code which says keep me signed in. Then you will stay connected as long as WhatsApp is connected on your phone.
Whatsapp does not show you 'Online' unless you are actively on it, or leave the app open. If you open other apps, the whatsapp app remains open but it's now running in the background, at which point it would show a 'Last Seen' not an 'Online' status.
Only group admins can delete messages sent by other group participants. Group admins have about 2 days after someone else sends a message to request to Delete for Everyone.
"WhatsApp is safe in that it uses the same secure encryption as Signal but is owned by Facebook – a company which has historically monetised personal information (principally for advertising).
n the chat overview (left screen in the image above), the profile picture will have a highlighter indicating that it is the person's birthday today. There is also a birthday calendar that shows all upcoming birthdays of the contacts.
Open the Blur Photo Editor app to select a picture. Go to the blur effects and tap on the pixelated blur option. Choose the desired intensity, and get a blurred-out image. Tap on the top right corner button for photo sharing or saving.
Once you've chosen your picture, tap on the pencil icon at the top right of your display. At the bottom, you're going to see various options to draw on your image, but the last option to the left is the blur tool. You can also use the other options to draw on your image as long as you're there.
How safe is WhatsApp? According to researcher Gal Weizman, the flaws were found in WhatsApp Web, the browser version of the messaging platform. Weizman revealed that WhatsApp Web was vulnerable to an open-redirect flaw, which allows remote hackers to redirect victims to suspicious, arbitrary websites.
When you go to web.whasapp.com, it checks that the code has not been altered in any way and confirms this so you know it's safe to use. This extra layer of protection means WhatsApp offers the highest level of security (when using the web app) of any end-to-end encrypted messaging service.
Iain says: "This could constitute an offence under the Computer Misuse Act 1990. "An offence may also be committed under the Protection from Harassment Act 1997 if the private information is deployed as part of a 'course of conduct'."
"Ghost Browser allows you to log into any web site with multiple accounts from one window. This can be very handy when you manage multiple social media profiles for each of the social media platforms."
Make Google Chrome Look Better Using Themes | Easy ... - YouTube
Chrome add-ons or extensions are small programs you can install in your Google Chrome browser to extend its functionality. These programs enable you to perform certain functions, like taking a screenshot of a webpage or researching keyword volume, directly in the Chrome browser.
From the control panel, select the search engine you want to edit. Click Look and feel from the menu on the left and then click the Themes tab. Select the theme you want to use. You can preview them in the box on the right.
ChromeStats, the industry leader in providing top-tier security and risk analysis for Chrome extensions, is helping users, investors, and developers alike through their various monthly subscriptions. Chrome extensions are used daily by millions of people around the world.
You can use emulators like Andy or BlueStacks to use WhatsApp on your computer. Go to Andy Android Emulator's website and click on 'Download'. Now, click on the downloaded file to install the emulator. Follow the download instructions and provide the required permissions to the emulator.
How to create shortcuts for Google™ Chrome apps in Windows® 7
How to use WA Web Plus for Whatsapp Web - YouTube
WhatsApp allows its users to use their accounts on multiple devices. The users do not require any third party application to use WhatsApp on multiple devices. WhatsApp multi-device support is no more an opt-in feature if you have an updated version.
Does WhatsApp Web work when phone is off. The simple answer to this is no. WhatsApp Web won't work on your computers and tablets if the mobile number with which it is synced is turned off.
To use WhatsApp on computers/laptops, it is mandatory to scan a QR code and if you log out from the desktop version, you will again have to scan the QR code and log in to your WhatsApp Web.
From the Start menu or apps list, press and hold (or right-click) an app, then, if available, select Pin to taskbar . From the Start menu or apps list, press and hold (or right-click) an app, then select More > Pin to taskbar .
Create your own link

Use https://wa.me/<number> where the <number> is a full phone number in international format. Omit any zeroes, brackets, or dashes when adding the phone number in international format.
Select Start , scroll to the app you want to pin, then press and hold (or right-click) the app. Select More > Pin to taskbar. If the app is already open on the desktop, press and hold (or right click) the app's taskbar icon, and then select Pin to taskbar.
How To See Hidden Last Seen on WhatsApp in 2022 ? - YouTube
The API key and API key name are important information in the setup of your WhatsApp Business Profile. You will have to create an account at tyntec's customer portal to retrieve this information.
Google Chrome usage has increased steadily over the past few years, and it is now the most popular browser in the U.S.
It's the second option below the "Device" heading. This displays the keyboard settings menu. Click the drop-down menu next to "Ctrl." There is a drop-down menu for "Ctrl," "Alt," "Search,", Backspace" and "Escape." Click the drop-down menu next to "Ctrl." Select Disabled.
Brave and Google Chrome are both Chromium-based web browsers; they're both compatible with most of the extensions found on the Chrome Web Store. And the vast majority of extensions you find there are safe.